Wheels Make Wishes Come True - 2021 Corvettes on the Columbia for local kids!
Check out the total amount raised for Make-A-Wish Alaska and Washington! We teamed up with 3 Rivers Corvette Club again as we approached the $1million mark for local kids. In the 10th year of this beautiful partnership with Make-A-Wish Alaska and Washington, the community came out in a big way to support life-changing wishes for children going through so much. During Wheels Make Wishes Come True, August 1st - September 11th, a portion of every vehicle sale goes towards the final donation. As Wheels Make Wishes Come True concludes, the biggest Corvette event in the area, Corvettes on the Columbia, took the main stage to make a massive impact for local kids. The result was over $184,000 donated to our friends at Make-A-Wish Alaska and Washington. See the check presentation and a recap of the action here!
Boys and Girls Club Benton and Franklin Counties: Mini Car Show: April 2021

Boys & Girls Clubs of Benton and Franklin Counties' mission is "To empower all young people, especially those who need us most, to reach their full potential as productive, caring, responsible citizens." We are honored to partner with them and celebrated our partnership with a pop-up car show and pizza party for the Kennewick Boys and Girls Club. Please check out how you can get involved at https://greatclubs.org/.

#bgcbfc #GreatFutures #TriCities #McCurleyCares

Celebrating 40 Years in the Tri-Cities: April 2021

Tri-Cities, thank you for 40 wonderful years! We took a moment to look back at the Tri-Cities this past 40 years and look forward to the next 40!

2020 Recap: Thank You To Our Community Partners

2020 was a challenging year, but we are prouder than ever to be part of this community. We reflected on some of our community partnerships and the incredible work going on in our community. Our partners include IMAC, Boys and Girls Clubs of Benton and Franklin County, Pets Over Population Tri-Cities, Tri-City Union Gospel Mission, Alzheimer's  Washington State Chapter, local schools, and local area food banks just to name a few. Thank you, Tri-Cities, for making this a great place to work and live. 

Tri-Cities Food Bank: Community Partner Spotlight

We are proud to support Tri-Cities Food Banks. They provide an incredible service to our community by providing food for individuals and families with food scarcity. This Non-Profit agency has been helping families in need since 1975. The stories and impact of the staff and volunteers are beyond measure.  To helpor learn more please visit. https://tri-citiesfoodbanks.org/

19th Annual Octoberfest Presentation: Recap November 2021

Once again, your donations helped to fill the gaps during the holiday season! This year this food helped more than ever as our local food banks saw up to 3x the need during Covid. Although the event happens in October, the food bank shelves are filled for the busy holiday season. We wanted to take a moment to thank your generous community and the local food banks that do so much for our community. Please check out these fantastic organizations for more ways to help. Tri-Cities Food Bank, The Salvation Army Tri Cities WA Social Service Center,Tri City Union Gospel Mission, St Vincent de Paul Food Bank - Pasco, Blue Mountain Action Council #Octoberfest #TriCities #McCurleyCares

Keeping Our Dealership Safe and Healthy
During the Challenging times of Covid. We continue to take steps to create a safe and healthy environment for our staff and customers. Thank you for helping us stay Tri-Cities strong!
IMPACT Percussion Giving Tuesday Dec. 3rd, 2019-McCurley Matches
On Tuesday, December 3rd, 2019 we were honored to help support the journey to positively change lives through music.
McCurley Integrity Dealerships was able to match $2,500 donations for IMPACT Percussion on Giving Tuesday. In total IMPACT Percussion was able to raise a total of $7,701.68
The generosity of our communities allows the Boys & Girls Clubs of Benton and Franklin Counties the ability to create meaningful and life-changing experiences for young musicians in our community and beyond through IMPACT Percussion. Donors give IMPACT Percussion the flexibility to keep member fees affordable, ensuring that any young musician, regardless of background or income level, can participate.
Learn more and donate here: https://impactpercussion.org/giving-tuesday/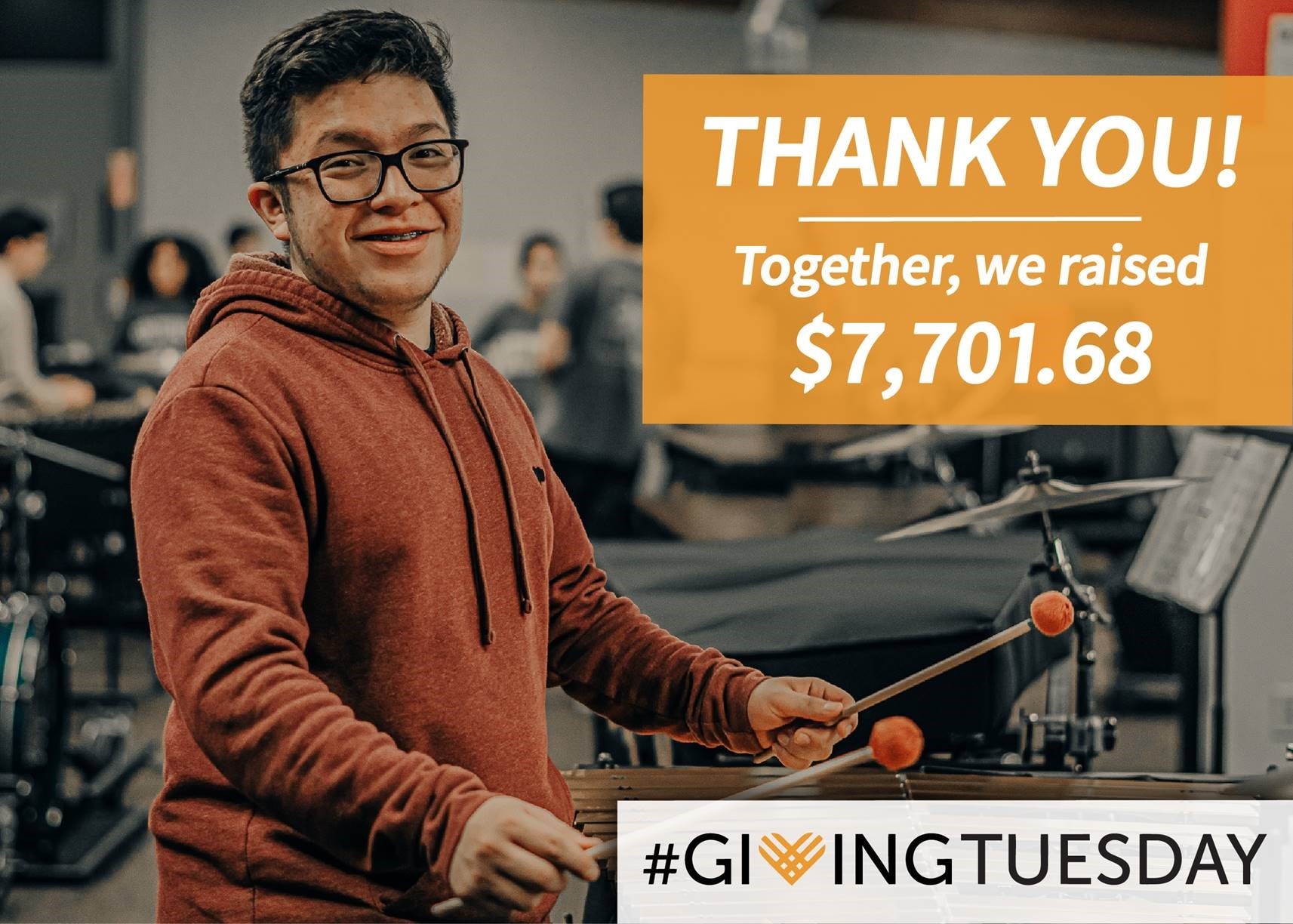 2019: 18th Annual Octoberfest Final Results
Thank you! During our 18th Annual Octoberfest the Tri-Cities and Walla Walla Communities were tremendously generous. Each year we work to raise donations and supplies and local food banks. The estimated total for the eighteen year event is over 920,000 lbs of food. The event is every October because it allows our local foodbanks to stock-up for the high demand of the holidays. We have a lot of fun working with our local partner at Yoke's Fresh Market. Customers at Yoke's purchase and donate $5 and $10 food bags all month long. We also could make it happen without Coca-Cola Distributors of Pasco and their help in storing and moving food supplies, and our friends at Mustang Signs who create awesome promotional materials. Yoke's Fresh Market customers donated 46,960 lbs of food and dealership donations totaled 11,500 lbs. Add to this the $55,295 check donation presented by McCurley dealerships and Yoke's Fresh Market Customers, and these donations will go a long way this holiday season. Ultimately none of it is possible without you, our community. Thanks to your generosity we were able to help raise over 58,460 lbs of food!
2019 Wheels Make Wishes Come True- $145,000 for Local Make-A-Wish Children
Wheels Make Wishes Come True has become McCurley tradition. Every year we help to support the wishes of local kids through Make-A-Wish® Alaska & Washington. With your support plus big help from the 3 Rivers Corvette Club, we were able to raise over $145,000 this year! You can see the excitement at this year's Corvettes on the Columbia check presentation. Thanks to everyone who made this possible! #MakeAWish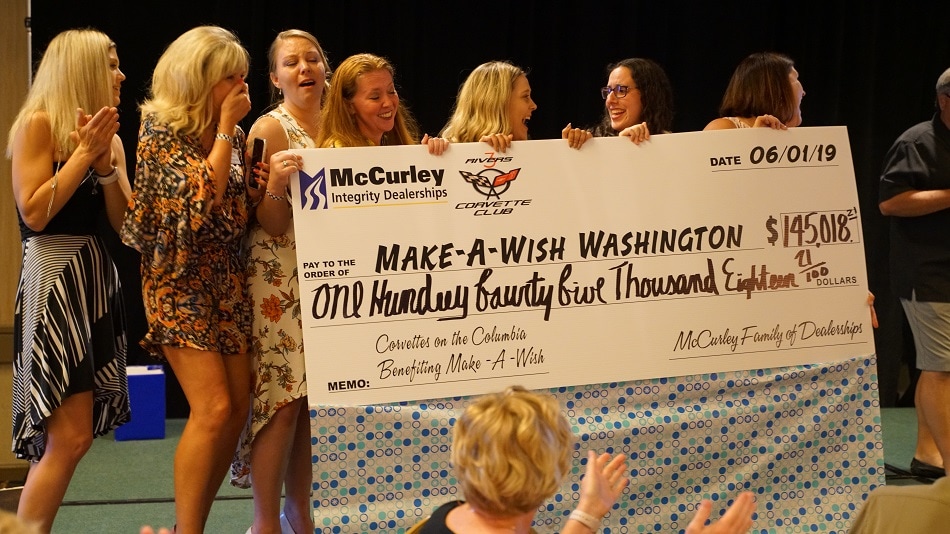 2018: 17th Annual Octoberfest Sales Drive Results

The 17th Annual Octoberfest Food Drive was a huge success. You all made this possible. Over $51,000 will be used to purchase food plus another 58,000 lbs of food will be going to local area Food Banks in the Tri-Cities, Walla Walla, and the surrounding areas! Of course, none of this would be possible without all the good work from the teams and volunteers at local Food Banks. We are projecting that over one million pounds of food will have been donated to those in need by our 20th Annual Event. We love this community!
During the month of October a portion of every purchase went towards local Food Banks. Customers also brought non-perishable food items into our showrooms. On top of these donations, many community members purchased $5 and $10 food donation bags at local area Yoke's Fresh Markets. Thanks you to everyone who was involved.
16th Annual Eerkes Memorial Event
A message from the event:
Thank you for supporting the 16th Annual Eerkes Memorial Event. It was a record-breaking year! With your help, we were able to raise over $290,000 for local children and teens! We are truly grateful for your generosity. 
The Eerkes Family, event committee and our benefiting charities hope that you thoroughly enjoyed the event.  We are proud to partner with an amazing group of sponsors and venders to create an event that helps local youth! 
Your generous donation grants us the ability to impact the lives of our community's children and teens in a tremendous way. On behalf of the Boys & Girls Clubs of Benton and Franklin Counties and Tri Cities Young Life thank you for joining in on our mission, your support is transforming lives! Donations are providing our kids with quality programs and life changing experiences. 
2018 Walk to End Alzheimer's - Kennewick, WA
McCurley Integrity Dealerships was a Gold Sponsor of the 2018 Walk to End Alzheimer's in Kennewick, WA. Take the first step to a world without Alzheimer's. Thank you to everyone who walked with us to raise awareness and funds to find a cure for this devastating disease. This is a cause that is very close to the hearts of many of our employees and amazing customers.
2018 Wheels Make Wishes and Corvettes on the Columbia
During the month of May a portion of each purchase at Mercedes-Benz of Tri-Cities went towards granting wishes for local Make-A-Wish kids. In 2017 over $121,000 was raised for Make-A-Wish® Alaska & Washington. The check was presented at the 9th annual Corvettes on the Columbia on June 2nd. The McCurley organization and 3 Rivers Corvette Club were able to deliver a check for $138,834. All the proceeds go towards making local wishes come true through Make-A-Wish®. Thank you to everyone who supported McCurley Integrity Dealerships and Corvettes on the Columbia in 2018. 
https://wish.org/akwa/our-stories
2017 16th Annual Octoberfest Sales and Food Drive
2017 was by far our biggest event yet with over $66,000 donated and over 73,000 lbs. of food donated to local banks. Please watch this short video that highlights the 2017 event.