Mercedes-Benz of Tri-Cities 
Parts Department   
At Mercedes-Benz of Tri-Cities, we believe in doing the job right the first time. That is why we use only genuine Mercedes-Benz parts on your vehicle. Providing our factory-trained and highly knowledgeable technicians the right parts for the job is not just the right thing to do. It is the only thing we do. We invite our neighbors in Pasco and Richland to take the trip to our dealership to access the parts your vehicle needs.
Whether you are a novice mechanic or if you do more than dabble, our Parts Center has just what you need to keep your Mercedes-Benz roaming the streets of Yakima for years to come. When you want to order parts or accessories, our convenient online tool makes it easy to get the equipment you want.
Mercedes-Benz of Tri-Cities is your hometown luxury dealership for a reason. We put your needs and dreams above all else. We offer world-class service from the moment you arrive. Experience the difference an amazing and caring dealership can make in your life. Visit us today for details on all of our current vehicles and specials. You will be glad that you did.
Genuine Mercedes-Benz Parts
Genuine Mercedes-Benz Parts fit your vehicle like no others can. They're engineered specifically to function with their fellow parts and systems, and they're constructed from the finest materials available. They're also subjected to rigorous testing, which means each part comes fully certified. In the end, you can be sure that your vehicle will perform up to its potential, mile after mile.
Genuine Mercedes-Benz parts are not just for our technicians. You can access these parts too. We do not want you to pay more for your parts than you need to. That is why it is important to take a look at our fantastic Parts Specials and find the right deals for you. We also provide Recall Information, so you have the important information you need to stay safe on the roads. Lastly, our Tire Center makes sure you have access to the exceptional tires your vehicle needs for the thrilling driving you enjoy.
Genuine Re-manufactured Parts
Genuine Re-manufactured Parts are guaranteed to meet the same high standards for quality and reliability, but with a price that's easier on the wallet. Using re-manufactured parts for repair and replacement will help maintain your vehicle's performance while reducing environmental impact.
Mercedes-Benz StarParts
Mercedes-Benz StarParts are designed for vehicles 5 years and older. They provide an authentic, price-friendly solution, while maintaining the exacting standards in terms of fit and performance that you've come to know from Mercedes-Benz. It's a great way to care for your vehicle as it ages over the years.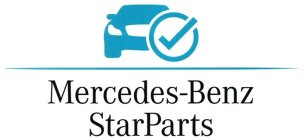 StarParts 
Are you searching for business info or looking for bulk business offers? Learn about the Mercedes-Benz StarParts. We can help make doing business easier and save you money in the process. 



Are you one of our business partners? Already signed-up with Repairlink or Collisionlink please click below. Would you like more information or to sign-u? Call 509-547-7924 or 1-800-456-6257
Parts Limited Warranty Advantages
When you choose Genuine Mercedes-Benz Parts, you enjoy the reassurance and instinctive ease that comes with our Parts Warranty:

24-months, unlimited mileage
24-months or 24,000 miles for transmissions
48-months or 50,000 miles for engine and long blocks (same coverage as for a new Mercedes-Benz)

Contact us for more on the Mercedes-Benz Spare Parts Limited Warranty.*